Release.

DiscJoker feat. Joe Raggi – Umore Bianco
Date

16/12/2021

Catalog

REK043

Genres

Artists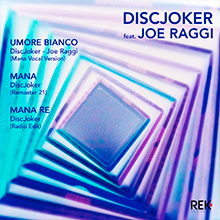 Description.
Release date: 10/12/2021 Label:
REK Records – REK043
Tracklist – artist and Genre:
Mana (RE) – DiscJoker techno-peaktime-driving
Mana (R21) – DiscJoker techno-raw-deep
Umore Bianco – DiscJoker / Joe Raggi – Indie
The new version of Mana by DiscJoker, a techno trip… The original Track with the new Remaster 21, the Radio Edit and Umore Bianco, the version with text and vocals by Joe Raggi. Play it loud!